FunLife Inc.(hereinafter referred to as the "Company") has established the following privacy policy (hereinafter referred to as the "Policy") regarding the handling of information including personal information (hereinafter referred to as "User Information") of users (hereinafter referred to as "Users") of FITRIS (hereinafter referred to as the "Service") provided by the Company.
1. Application providers that obtain user information
2. User information to be obtained and its purpose
The user information obtained by this application and its purpose are as follows.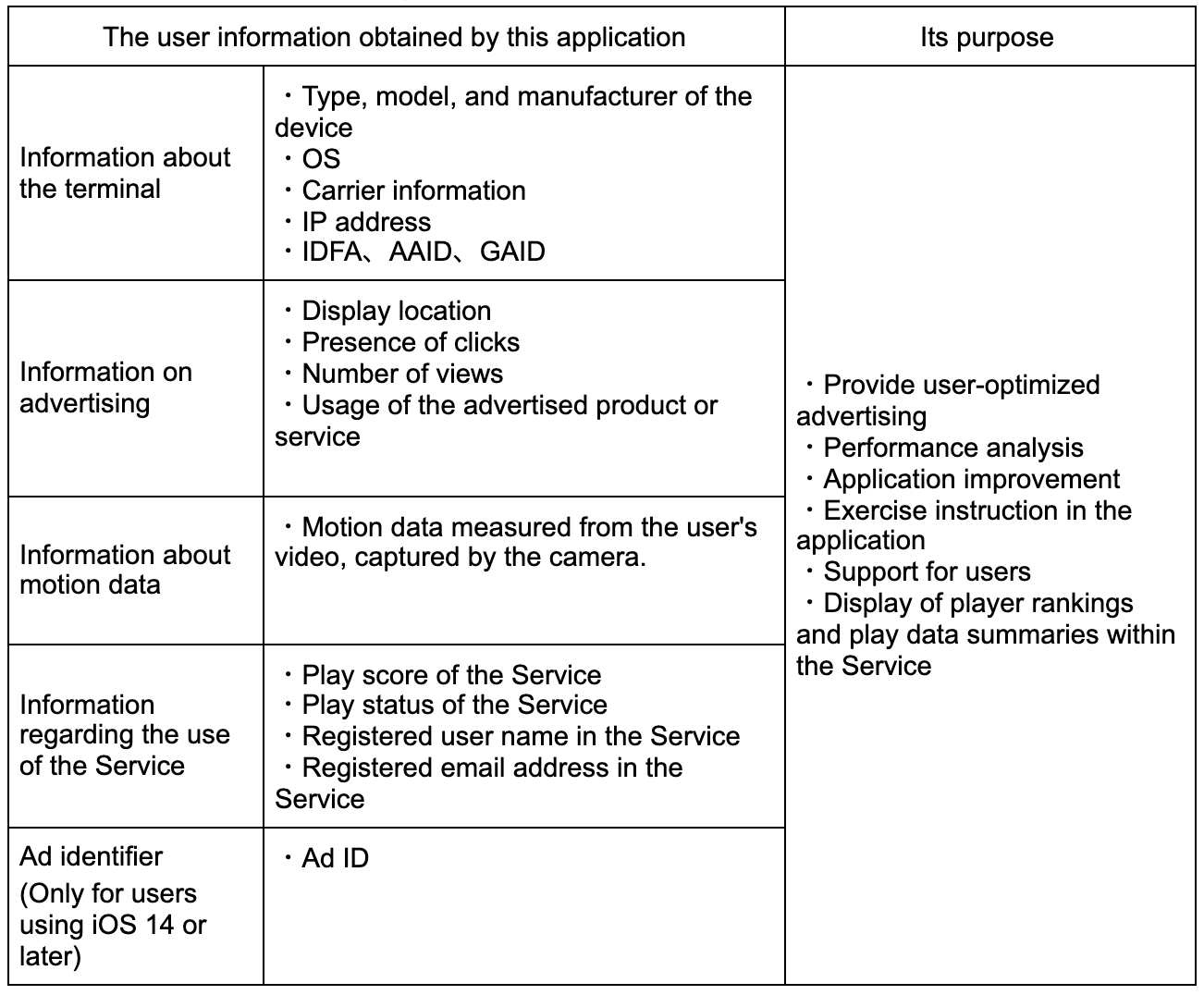 3. Method of acquisition
The Company automatically obtains User Information through this application, which has a built-in information collection module.
4. Method of notification, publication, or obtaining consent; method of user involvement
(1) Notification and publication
The Company will notify and announce the Policy and the FunLife Inc. Privacy Policy by posting it on this application or our website.
(2) Method of obtaining consent
Consent is obtained when this application is first launched.
(3) Method of user involvement
The acquisition of User Information can be stopped by uninstalling this application.
5. External transmission, provision to third parties, and Modules for information collection
(1) External transmission
The acquired User Information will be sent to the server of the hosting company that the Company outsources the management of the User Information.
(2) Provision to third parties
The Company will not provide the acquired User Information to any third party, except in the following cases

Aggregated data which will not allow to identify individual users
When disclosure or provision is required by law.
In the event that a user commits or attempts to commit an act that is detrimental to the interests of others, offensive to public order and morals, or otherwise violates the terms of use of this service, the Company shall take the necessary measures to deal with such act.
When it is necessary to protect the life, body, or property of an individual and it is difficult to obtain the consent of the individual.
When it is particularly necessary to improve public health or promote the sound growth of children, and is difficult to obtain the consent of the individual.
When it is necessary to cooperate with a national agency, a local government, or a person or organization entrusted by either of the foregoing in executing affairs prescribed by laws and regulations, and obtaining the consent of the individual concerned is likely to impede the execution of such affairs.
In the event of a merger, corporate separation, transfer of business, or other event that results in the succession of business involving the user's personal information.
(3) Information collection module
The Company will incorporate the following information collection modules into this application.
*This is a program created by a third party that analyzes the display of advertisements and the frequency of use of the application, and is independent of the functions of the application itself.

Service provider: Google, Inc.
Privacy Policy: https://www.google.com/intl/ja/policies/privacy/

1. service name: Google Analytics (https://www.google.com/analytics/)
2. service name: Firebase (https://firebase.google.com/)
6. Inquiries
If you have any opinions, questions, or complaints regarding the Policy, or any other inquiries regarding the handling of User Information, please contact the following.

info@funlifejapan.com
7. Revision
The Company may revise the Policy at its discretion. However, if there is any change in the User Information to be obtained, the purpose of use, or provision to third parties, the Company will notify the user through this application or the Company's website, and obtain consent from the user again when the application is first launched after the change in the Policy.
8. FunLife Inc. Privacy Policy
The FunLife Inc. Privacy Policy applies to matters not specified in the Policy.
9. Date of enactment and revision
Enacted: December 23, 2020